Getting a job with the government comes with many perks. From good starting salaries and lots of room to move up, you can have a long career in a variety of fields.
So, if you are looking to get a federal law enforcement job, then we have collected a list of all the agencies that you can work for and the requirements needed for the job.
FBI
Formally known as the Federal Bureau of Investigation, commonly known as the FBI, this agency offers many different positions in a variety of capacities. As the agency that investigates crimes that are related to domestic security, they investigate financial crimes, computer crimes, kidnappings, and potential terrorist threats.
If you want to be an FBI agent and help catch criminals all across America, then you will need all of the following:
Bachelor's degree (preferably in criminology or related fields)
Preferred Master's Degree or Juris Doctorate
Relevant work experience
FBI Training at Quantico with Graduation
Once graduated, you will be sent to one of the many field offices across the country to work in a specific area. These areas could be computer fraud, law, financial crimes, or common law enforcement.
DEA
The DEA, or the Drug Enforcement Administration, is another sector under the US Department of Justice, like the FBI. However, this agency focuses on the regulations and enforcement of those regulations regarding illegal drugs. These illegal substances can be street drugs, chemicals, and even prescription medications.
If you would like to join the DEA as an agent, here is what you will need:
Advanced Degree (not required but preferred)
Must be a US citizen
Pass a drug test
Pass a background test
Pass a hearing and sight test (corrective measures taken for those with less than 20/20 vision or those with limited hearing)
Must have a Driver's License
Once accepted, you can become a DEA agent or choose to become an investigative specialist. This is known as a Diversion Investigator.
ICE
ICE stands for Immigration and Customs Enforcement, which hire special agents who investigate crimes related to money laundering, human smuggling, drug trafficking, and violators of immigration law. As an ICE Agent, you will conduct investigations that are administrative, civil, or criminal.
If you want to be an ICE Agent, this is what you will need:
Bachelor's Degree or work experience
Preferred experience in management or leadership position
Once you are an ICE Agent, you can work in the field and track down violators, and if you'd like, move into higher positions within the Department of Justice.
Secret Service
The Secret Service is well-known for the fact that these agents are the main source of protection for the US President, but they do other jobs as well. This agency also protects the national treasury and US currency. One of the main functions of the agency is actually to prevent people from making counterfeit money.
If you want to be a part of the Secret Service, you will need the following:
As a Secret Service Agent, you can work within the federal government and often have the option to work with security for foreign diplomats or high-ranking US officials.
Uniformed Secret Service Officer
These uniformed officers are specifically employed as security for events that happen around the D.C. area. They will typically be stationed around the Treasury building, the White House, and the US Naval Observatory. They can also be stationed at foreign embassies at the capital.
If you want a job as a law enforcement officer with the Secret Service, you will need the following:
Training at the Federal Law Enforcement Training Center in Georgia
Specialized training in Washington, DC.
ATF Special Agents and Investigators
The name ATF stands for the Bureau of Alcohol, Tobacco, Firearms, and explosives. These agents will work in many offices all across the US and will handle cases of terrorism and arson. They will also deal with cases that involve organized crime and trafficking or illegal alcohol, tobacco, firearms, and explosives.
If you want to work for the ATF, then you will need:
To be a US citizen
Be over 21 years old
Be under the age of 37 at hiring
Have a driver's license
High school diploma (Bachelor's Preferred)
You will also need to do a handwriting test, a physical abilities exam, and a medical exam to become an agent.
Deputy US Marshals
The Deputy Us Marshals are responsible for witness protection and providing security at the courts. These deputies also arrange prisoner's transports, enforcement of federal court orders, and provide for people waiting for a trial.
If you want to be a Deputy US Marshal you will need to:
Receive training at the Federal Law Enforcement Training Center in Georgia
You will assist in capturing fugitives that have escaped custody, and oversee the Federal Witness Protection Program.
NCIS
The NCIS is the acronym for the Naval Criminal Investigative Services and works for the US Department of the Navy and the Marine Corps. They investigate crimes that involve a member of Navy personnel or naval property. They can be stationed on navy ships while the men and women are stationed at sea.
If you want to become an NCIS agent, then you will need:
A driver's license
Must pass a background check
Pass a polygraph test
Obtain Top Secret clearance
As an NCIS agent, you will investigate and enforce laws among military personnel and be involved in the criminal charges that may come against someone.
Border Patrol
The Border Patrol is involved in keeping the nation's borders secured and tracking individuals who may have entered the country illegally. They are also involved in investigating crimes like human trafficking, smuggling, and illegal transport of weapons.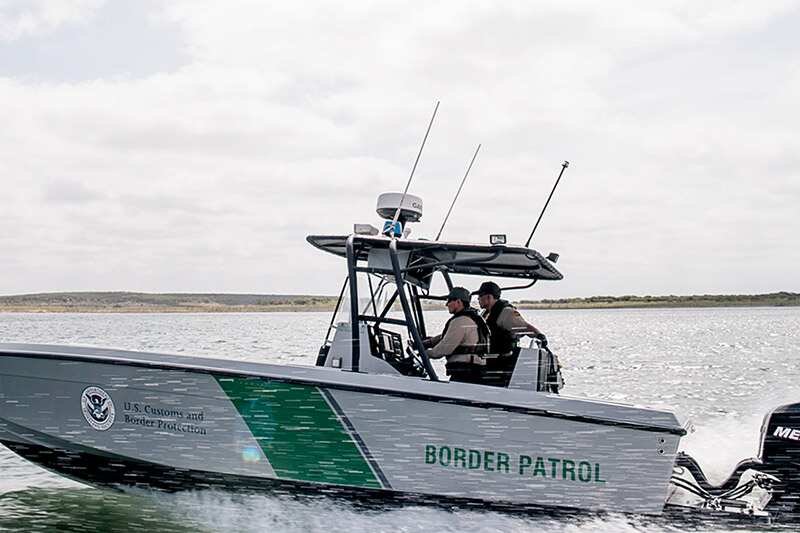 If you want to be a Border Patrol Agent, you will need:
Attend the US Border Patrol Academy
Must speak Spanish functionally by the time of their first assignment
As a Border Patrol Agent, you will work in states that are bordered along with other nations like Texas, Arizona, Montana, and Washington.
Department of Defense
As a member of the Department of Defense, you will be a part of a civilian police force that is employed to provide services on military installations and bases. They often assist the investigative unit, conduct minor criminal investigations, and stand guard at different checkpoints.
If you want to be a member of the Department of Defense, you will need:
High school diploma (Degree allows for better starting pay)
Prior law enforcement experience is a plus
Medical screening
Employment history check
Three-month training at a DOD academy
After your initial training, you will likely get a field position where you will be trained on the job.
Conclusion
If you are considering entering into the workforce of the federal law enforcement officer, then any of these agencies will give you a great career track. Just decide which option fits your skills the best, and you can be on your way to elevating your career options. Remember to search for open positions with all of these federal law enforcement agencies at USAJOBS.gov.